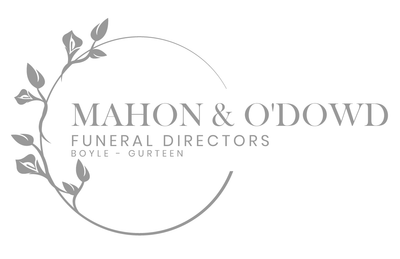 Mahon & O'Dowd Funeral Directors, Boyle & Gurteen
Mahon Funeral Directors has a proud history of serving the people of Boyle and the surrounding areas for over four decades. It was established by Joe and Kathleen Mahon in Kingsland in 1972 and in 1984, they opened their purpose-built funeral home at Ross Lane, just off the Crescent, in Boyle. After forty-eight years of outstanding service, Joe and Kathleen retired in March 2020. Unfortunately, Joe passed away the following July and he did not have as long to enjoy his retirement as he so richly deserved.
Emmet Cooney and his wife Siobhán (née O'Dowd) of O'Dowd Funeral Directors, Gurteen, acquired Mahon Funeral Directors in June 2020.
Siobhán has always worked in her family's funeral business with parents Raymond and Madeline. Emmet joined O'Dowd's as an Undertaker, after the untimely death of Siobhán's father, Raymond in 2010.
Emmet and Siobhán joined together the two long established Funeral Directors to form Mahon & O'Dowd Funeral Directors, Boyle & Gurteen.
Our dedicated team, Emmet and Siobhán (Boyle and Gurteen), Prionsias Mc Gee (Boyle), Madeline, Gary and Declan O'Dowd (Gurteen) are available 24 hours a day 365 days a year to assist you.
Mahon's Funeral Home, Boyle, has been renovated and modernised to the highest standards.
In addition to this O'Dowd's Funeral Home, Gurteen, opened its doors for the first time in November 2020. This is the first time in the history of the business (also established in 1972) there has been a funeral home in Gurteen.